INTRODUCTION
A NEW PERSPECTIVE FOR TRAILBLAZING
A magnificent high-rise condominium brilliantly designed in an L-shape to guarantee each unit owns a view of the incredible panoramas in one of the most bewitching cities in the country.
The tower will rise from a conveniently accessible site in the heart of Mega Cebu. Blueprinted for work and sanctuary, Vista Suarez Cebu is Vista Residences' first foray into high-rise condo development in the region.
This will be a towering glass and stone city in the clouds, designed to create the ideal human habitat by responding to nearly every aspect of human life – business, education, leisure, family and the need for growth. Everything from its location to its amenities will respond to whatever every resident, occupant, or guest will need to live fully, completely enjoy their stay, or build their careers. Because of this, Vista Suarez Cebu will prove to be a lucrative investment for those looking to invest in the city, or the perfect first or second home for those working or studying in Uptown Cebu. It is master planned to redefine condominium living.
Unlike other developments, the vertical village offers few units per floor for better privacy, less crowding, and more breathing space – a huge premium in condominium living.
UNIT FLOOR PLANS
GALLERY
Our condominium developments offer amenities the Global Filipinos need to live the life they've always dreamed and worked hard for. Every unit option, from studios to two-bedroom units, are designed with the same attention to detail and space-planning expertise.
NEARBY PLACES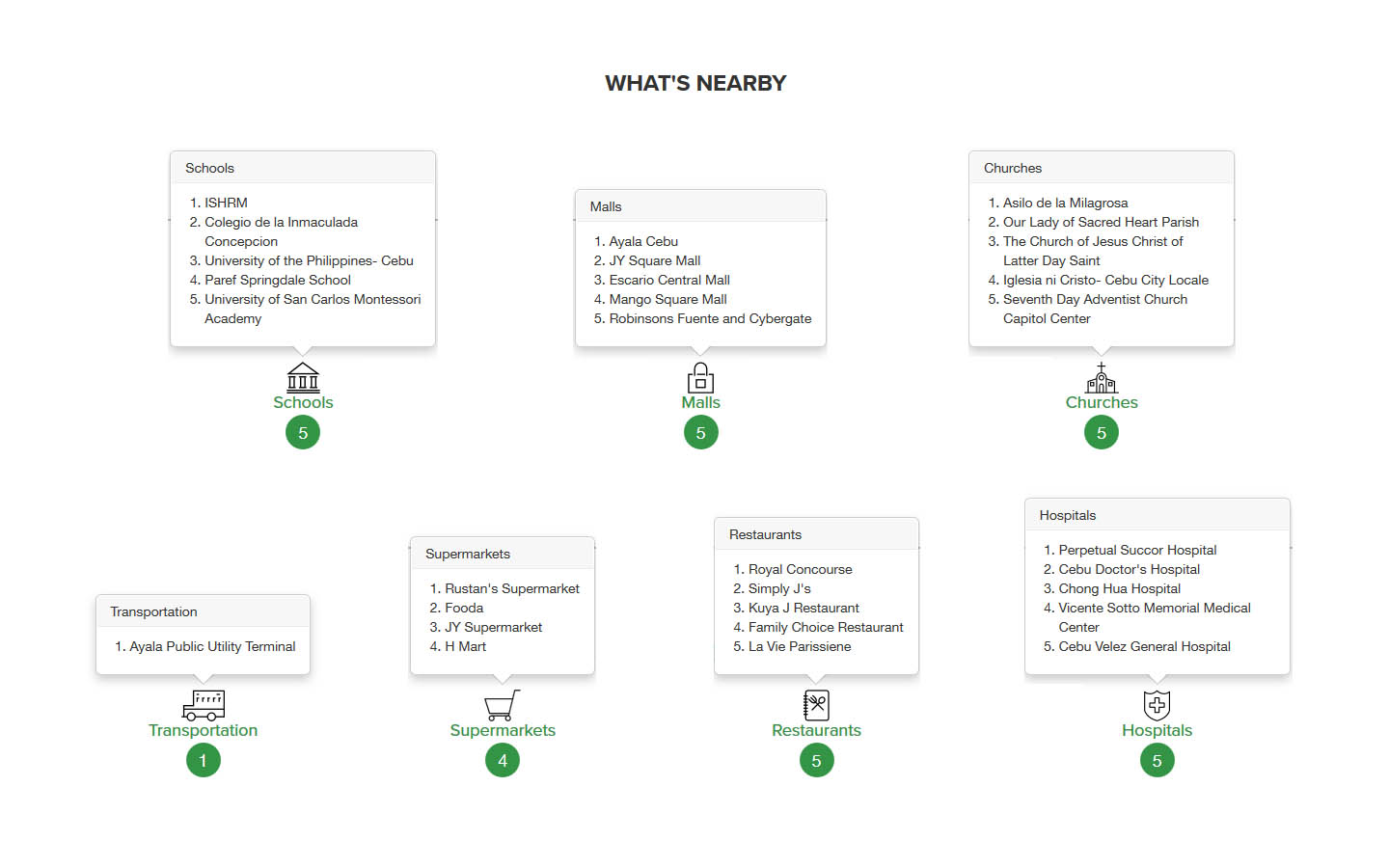 LOCATION
Vista Residences' flagship condominium property in Cebu, will tower over Gorordo Avenue, right in the middle of the metro's key hubs: The Cebu Business Park, Fuente Osmeña Circle and the Cebu Provincial Capitol.